In BestFans you have found it! BestFans is the perfect alternative for Onlyfans creators 🚀 You wonder why? It's simple: In August 2021 it was all over worldwide media – headlines like "OnlyFans to Bar Sexually Explicit Videos Starting in October" (bloomberg.com) or "OnlyFans Says It Is Banning Sexually Explicit Content" (nytimes.com) flooded Google News and social media 😱 It was about plans of the online platform Onlyfans changing their guidelines to ban creators from posting explicit content in the future…
A few days later – due to justified (negative) reactions on the net – they backpedaled … BUT many content creators who so far exclusively offered their adult content on Onlyfans suspect that this will not be the end of the line and are now searching for suitable alternatives to Onlyfans.
We at BestFans promise you: adult content is very welcome on our platform and this won't change in the future!🔥
BestFans is the perfect Onlyfans alternative!
We have been working in the adult business for more than 20 years and besides BestFans we run various classic adult websites. Content creators of "all kinds" are welcome on BestFans – and of course also the ones who are passionately dedicating themselves to offer erotic content 😉
With BestFans as an Onlyfans alternative you are in good hands for the future! Because in order to ensure your success, your popularity and your growth in the paid content segment on a long term basis it is certainly best to have a second mainstay!
The registration at BestFans is of course free of charge and easy to complete in just a few steps. We offer you almost the same features as Onlyfans. Your biggest advantage – if you think about to use BestFans as an Onlyfans alternative (or replacement?) – we don't keep 20% of commission, but only 10%! (YES, you read that correctly!) 🤩

Onlyfans alternative? More arguments for BestFans:
Your fans will also benefit if you consider BestFans as an Onlyfans alternative 🤩 This is because it has been proven that 64% of German Internet users do not own a credit card and are therefore unable to make payments with large international providers such as Onlyfans. We offer your subscribers the possibility to pay easily via direct debit! Don't miss out on the (German) fans who value your explicit content 🤑
And there are more advantages for you: our platform is "created in Germany" – so you benefit from reliable customer service support that really understands you and your concerns! At BestFans you will be assigned to a dedicated contact person who conscientiously and permanently supports you in generating maximum sales with your exclusive content! 🤩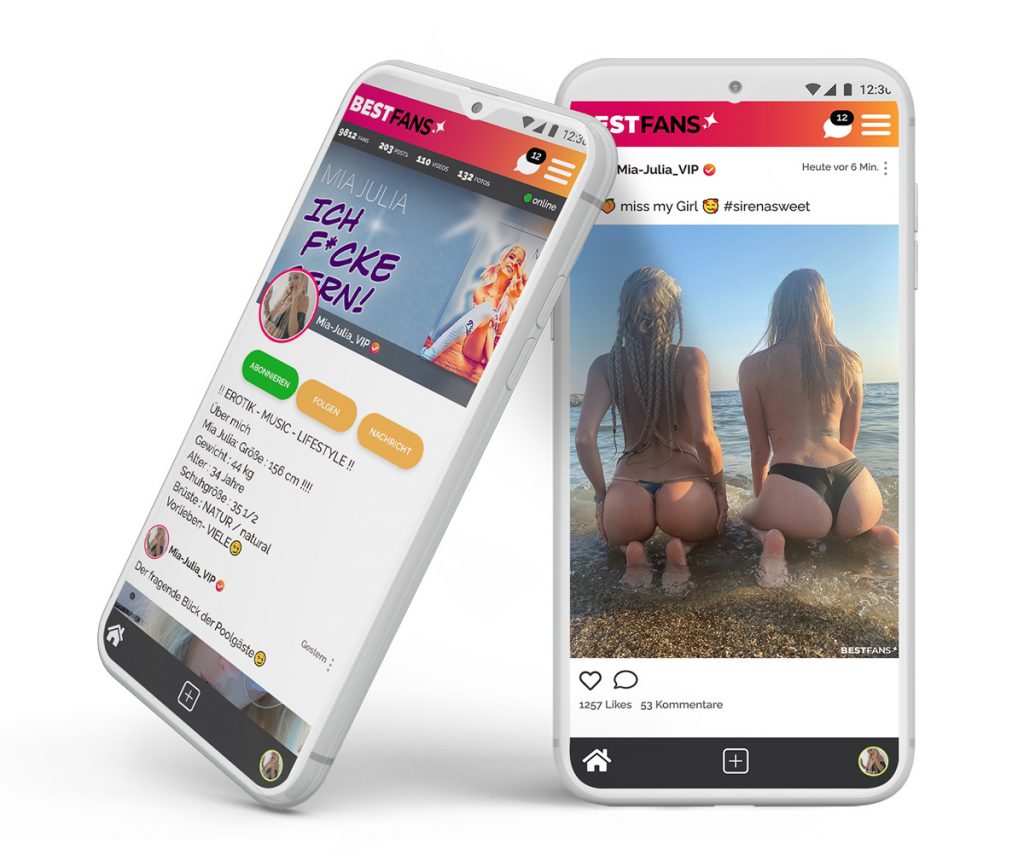 BestFans offers the perfect alternative to Onlyfans for adult content creators like Mia-Julia (famous german creator)
And of course we offer essential features for all creators of "explicit content" and this content will be offered 100% legally compliant within our flexible subscription schemes. We strictly follow German laws for the protection of minors and protect you as a creator from any legal actions.
What sets BestFans apart from other platforms and gives you the opportunity to kick off to a perfect start – you can read up on that in our BestFans Creators Blog!
Make sure to earn 10% more chargeback free commission – in contrast to Onlyfans
Chargeback free 90% of the sales you generate are YOURS! 💰💰💰
This way you can post new creative content in the future without any worries and entertain your fan base permanently 🥳
With the remaining 10% we cover the running costs for our operator fees like hosting, support and other technical, commercial and organizational services.
It is important to us that we interact as partners on the same level and of course make money together. We guarantee you flawless processes, a reliable customer service support team, continuous expansion and of course a fair and punctual monthly payout! 🤝
We're looking forward to working with YOU 🧡 Don't put all your eggs in one basket and join BestFans today! 🚀